Single frequency laser

Ultra-compact

High reliability

High stability
Single frequency lasers also known as single longitudinal mode (SLM) lasers or single wavelength lasers.
CrystaLaser manufactures compact diode-pumped solid-state DPSS Single frequency lasers with narrow spectrum linewidth and long laser coherence length.
CrystaLaser manufactures compact single longitudinal mode, single frequency DPSS crystal laser products including diode-pumped The single frequency laser is a single longitudinal mode operation. The single frequency lasers are for industrial instrumentation applications in Raman spectrum scopy, holography, biomedical, fluorescence, reprographics, interferometry, semiconductor inspection and remote detection.
Catalog Download)
CrystaLaser provides the most wide wavelength selections of the compact solid-state single frequency or narrow linewidth lasers. Laser wavelengths from UV, blue, green, red to IR (nm):
262, 266, 349, 351, 355, 375, 405, 410, 420, 442, 448, 450, 473, 488, 515, 523, 527, 532, 542, 555, 561, 584, 589, 593, 633-647, 655, 658, 671, 685, 690, 780, 785, 808, 852, 946, 980, 1047, 1053, 1064, 1080, 1313, 1319, 1342, 1444, 1550

The diode-pumped CrystaLasers are based on our proprietary laser cavity technology. The proprietary technology allows the crystal lasers to operate in a single longitudinal mode and TEMoo mode with low amplitude noise and extremely low power consumption in a compact laser housing.
If you need special laser configuration or special OEM laser module, please contact CrystaLaser directly.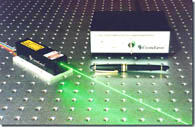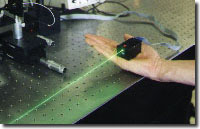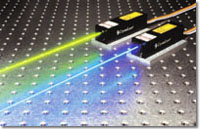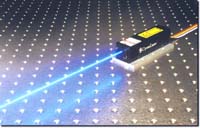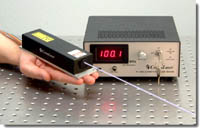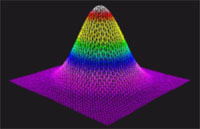 Single Frequency Laser Technology

Single frequency lasers, also known as single longitudinal mode lasers, operate in a single laser resonator mode in frequency domain. The single longitudinal mode lasers emit very narrow sprectrum linewidth of the light with long coherence length of greater than 10 meters and up to 1000 meters and with low phase noise. It is used for interferometry, hologram, Raman spectrometry, semiconductor inspection, coherent remote sensing and Laser Doppler velocimetry where the narrow spectrum and long coherence length lasers are required.
CrystaLaser manufactures a wide variety of single frequency lasers, for wavelengths across the IR, visible and UV spectra.

For more information, please access the online Information Request Form and download catalog